FREE Music and Arts Event
Belmont Porchfest
Saturday September 7, 11-6pm
(rain date: TBD)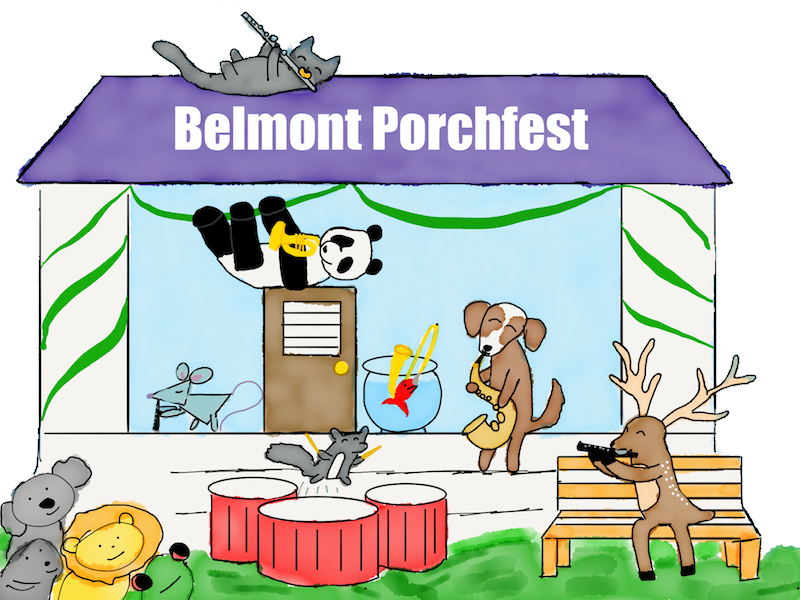 Belmont's Porchfest is a celebration of community through arts and music performed by your friends and neighbors in yards and on porches throughout Belmont. Bike to a friend's house to hear a klezmer band or host a circus show on your front lawn!
Another banner year of 77 performances on 60 porches hosted by the true stars of Belmont!
NEXT UP: SEE YOU AT THE MOVIES!
BELMONT PORCHFEST IN THE MOVIES!!!
Join us at the premiere of
A PORCHFEST JOURNEY
at The Regent Theatre in Arlington MA on October 4th only.
Although Porchfest is free, there are costs associated
with making it safe, fun and comfortable.
Please consider donating:


Questions? Drop us a note at BelmontPorchfest@gmail.com
This program is supported in part by a grant from the Belmont Cultural Council, a local agency which is supported by the Mass Cultural Council, a state agency, and by Anne Mahon

[[website by porchfest.info]]